Spring/Summer 2019 Adult Bible Study
Bible Study is held on Wednesdays at 7:30 PM after the 7 PM Prayer and Praise service beginning April 17th.
The title of this upcoming bible study is "Journey into Knowing Jesus" Gospel of John.
No other book in the Bible helps us get to know Jesus better than the gospel of John. John didn't write his gospel to give us a lot of facts about Jesus, but so we can get to know Him and have a PERSONAL relationship with Him.
This is a 26 week session:
April 17th – July 10th
(Break)
July 31st – October 23rd
Class Day/Time: Wednesday 7:30 PM – Pastor Dominic Green
Books cost $10.00: Sign-up sheet is in the vestibule (Deadline April 7th). Please contact Deaconess Claudia Bayless for more info and to order your books.
Youth Bible Study
The youth bible study is held on Wednesdays at 7:30 PM.
MOSES Bible Study
The MOSES monthly morning Bible Study is held the first Wednesday of each month at 10:30 AM. It's a wonderful fellowship! Invite your retired or "want to be retired" friends and neighbors. We are NEVER too old to learn the WORD of God. Here are a few friendly faces that will be joining you…
Sunday School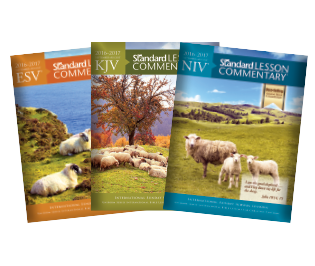 We recommend each person purchase the yearly Standard Lesson Commentary 2016-2017. The cost is around $14 at LifeWay Christian Bookstore or Family Christian Bookstore in Central Park. If you decide not to buy the book, the scripture text will be provided for each lesson.